(After the VI Summit of the Americas in Cartagena de Indias, 2012)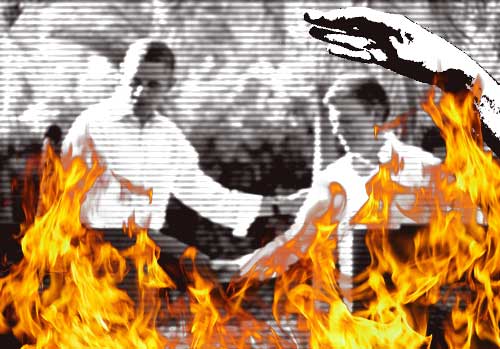 Corazón Desfasado, no me reprendas en tu enojo,
no me abandones a empresarios e inmobiliarios;
ahora que nuestras tierras están blindadas
y sus calles maquilladas
y la comunidad cree que tiene garantías
que ahora el desplazamiento es pura fantasía.
Palpita mi corazón,
pues se han clavado en nuestras pieles
proyectos turísticos
y cayó de tu mano sobre mí
un invitado especial,
un colonizador carismático
para entregar títulos y restituir baldíos
Palpita mi corazón,
No hay en mi cuerpo parte sana
El empoderamiento, aunque ajeno, me amarra
en nombre de su venerada voluntad
me agacho
me ignoro
me olvido
ante el encanto del Santo,
ante el homólogo gringo.
Palpita mi corazón
Es la causa de mis pecados creer y honrar una cumbre hemisférica?
¡Cita indigna!
Mis culpas se elevan sobre mi cabeza,
Socios para la propiedad han repartido,
ni siquiera el desarrollo sostenible han decidido.
estoy muy abatido.
Palpita mi corazón,
cuando Shakira canta a lo gringo.
Mona llorosa, gozosa, provechosa
Entonces me abandonan las fuerzas,
la misma luz de mis ojos se ahoga
Y Palpita mi corazón
y quedo como el que oye,
pero no tiene respuesta, fauces mudas.
Tú olvidarás mi flojera, mi agotamiento, mi blandura.
Porque en tí, Corazón Desafasado, confío:
Tú responderás,
tu sabrás,
tu resolverás
No me abandones a los Santos satisfechos
y sus homólogos expansivos.
Apresúrate a socorrerme,
Corazón mío,
salvación mía.
Amén